2017
Jun
Summary
South Africa officially entered a recession in Q1 2017 and outlook remains poor.
Weak domestic demand and stronger Rand have helped contain inflation.
Improved inflation outlook opens the door for rate cuts in H2 2017.
This will support South African equities and bonds, although further appreciation in the Rand from current levels does not appear sustainable.

Recent data from South Africa is reflecting the weakest macroeconomic backdrop since the 2009 recession. In fact, the economy has technically entered another recession, given that economic activity has now contracted for two consecutive quarters, in the final quarter of 2016 and the first quarter of 2017. In this article, we review the latest macroeconomic data and assess what this means for the short to medium outlook for the country's bond and equity markets (NYSEARCA:EZA). South Africa also forms an important component of the overall Emerging Market universe (NYSEARCA:EEM).
A contraction in first quarter GDP (-0.7% q/q, annualised) coupled with an improvement in the inflation outlook has opened the door for a series of interest rate cuts by the South African Reserve Bank (SARB) later this year. In fact, the poor activity data in recent weeks, including a jump in the country's unemployment rate, will likely see the central bank cut its official benchmark lending rate (currently at 7%) as early as its next policy meeting in mid-July.
The South African unemployment rate increased to 27.7% in the first quarter of 2017 from 26.5% in the previous period. This is the highest jobless rate recorded in South Africa since September 2003, and a continuation of an upward trend in the unemployment rate from a cyclical low of 21.5% in Q4 2008, prior to the global financial crisis.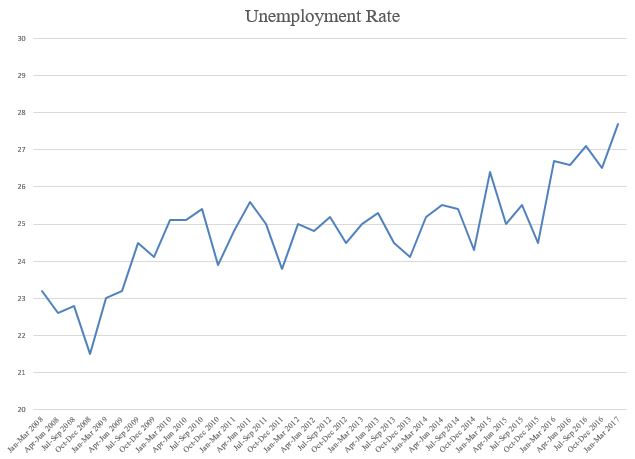 The expanded unemployment rate, which includes those who did not look for work but want to work, increased by 0.8% to 36.4%, indicating that approximately 9.3 million people who want to work are currently unable to find employment. Not only has the recent data shown a further deterioration in the unemployment picture, but it also reflects a notable slowdown in nominal wage and income growth.
Nominal remuneration growth has slowed from 10.5% y/y in Q2 2016 to just 6.6% y/y in Q4 2016. Although this level of growth is high relative to many developed economies, South Africa's inflation rate is also much higher, having averaged around 6% in 2016.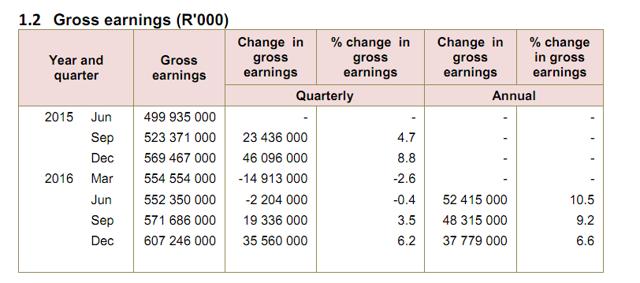 Source: Statistics South Africa
On the positive side, the moderation in wage growth will further help contain the country' s inflation rate which has eased notably in recent months, mainly due to the appreciation in the Rand (ZAR) over the past 18 months. The official inflation rate printed at 5.3% y/y in April and is well within the central bank's 3% to 6% inflation target band, thus paving the way for potential interest rate cuts.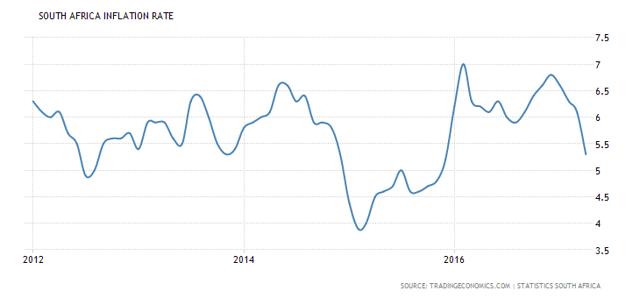 Source: Statistics South Africa, Tradingeconomics.com
Also on the positive side, the manufacturing PMI rebounded in May and printed above 50, indicating renewed growth in the embattled sector after a sharp decline in April. The April data may have been impacted by a loss of confidence following the controversial axing of a widely respected finance minister.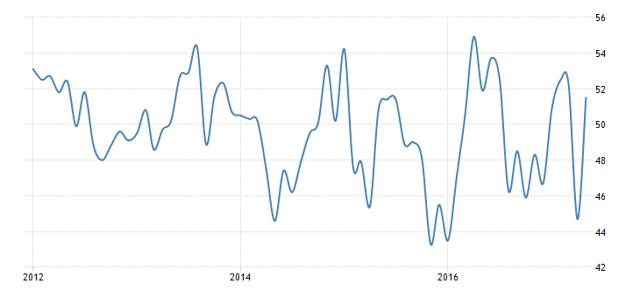 Source: ABSA Manufacturing PMI, Tradingeconomics.com
Nevertheless, although export-orientated sectors may see some renewed growth in coming quarters, particularly if the global growth backdrop remains supportive, domestic demand remains exceptionally weak. Again, this was reflected in a widely followed confidence survey covering the second quarter of 2017.
According to a survey conducted by RMB/BER, the compiled confidence index declined by a further 11pts to 29 from 40 in the prior quarter, marking the lowest print since the recession of 2009. The survey is often a useful leading indicator of economic activity, and as such, is pointing to little hope of anything but a modest technical rebound in activity in the second quarter.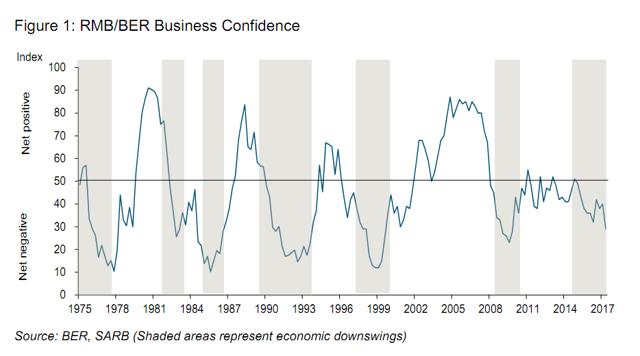 In accompanying commentary, Rand Merchant Bank (RMB) said that the further deterioration in sentiment could not be solely blamed on the recent increase in political uncertainty and sovereign ratings downgrades. RMB said the survey data also reflected persistently weak business activity and that confidence had declined in all five sub-sectors covered in the survey.
Notably, consumer driven sectors such as motor trade and the retail sector reflected sharp declines in confidence. RMB acknowledged that significant weakness in consumer spending was a central theme pulling sentiment lower. In contrast to the May manufacturing PMI data, the survey also found that confidence in the manufacturing sector had deteriorated further in the second quarter. The recent appreciation in the Rand may once again be eroding the competitiveness of the country's exports and unwittingly placing further pressure on the already embattled sector.
In the current context, with the official lending rate pegged at 7% and the 10-year bond yield trading at 8.4%, there appears to be substantial scope for an easing in monetary policy. The currency, which has appreciated considerably since reaching a trough some 18 months ago, will likely continue to suppress headline inflation in coming quarters.
With economic growth unlikely to average much more than 1%, at best and inflation equally likely to remain subdued for the rest of the year, the shorter-term equilibrium level for interest rates could well be lower at between 6% on the shorter end of the curve and 7% to 7.5% on the longer end of the curve. This points to some potential value in the South African fixed income market at present.
Nevertheless, as the chart below shows, South African longer-dated bond yields still trade towards the lower-end of their historical range, only modestly higher than the recent cyclical trough of around 7% recorded in 2013. Furthermore, structural issues including an inflexible labour market and persistent shortfalls in revenue at the state-owned electricity utility (Eskom), all point to continued upside risks to inflation over the longer term.
In fact, Eskom recently announced that it would apply for an increase of as much as 20% in its regulated electricity tariff for 2018. A large double-digit tariff increase in 2018 followed by the single-digit tariff increase this year (2.2%) will undoubtedly (from a base effect perspective) place renewed upward pressure on domestic inflation next year. This suggests that the window for any monetary policy easing may prove short-lived and could well close by early next year.
South Africa 10-year Bond Yield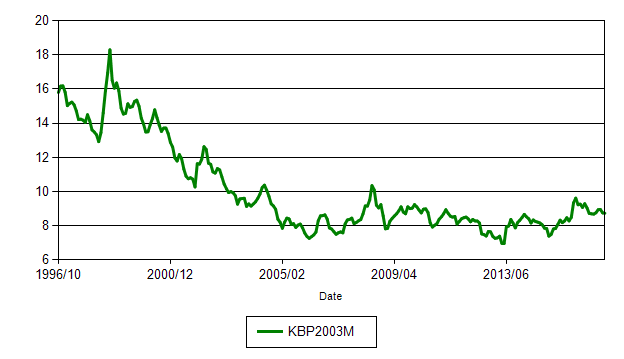 Source: South African Reserve Bank (SARB)
Nevertheless, given the very weak state of the domestic economy, this is a window that policymakers cannot afford to miss, and as long as the currency remains supported by the more benign global economic backdrop at present, they are still likely to embark on a series of rate cuts in coming months. For investors, this currently points to some upside in South African bonds, as well as domestic-orientated equities.
The upside in South African financial assets over the next six months would have to be weighed against the potential for a renewed weakness in the currency. Although the collapse in domestic demand (hence import demand) and stronger global growth backdrop (hence demand for South African exports, particularly mineral exports) has helped the trade balance revert to a surplus in recent months, it is not clear that the currency has that much room left for any further appreciation.
Apart from the negative impact on export revenues, the Rand at current levels is likely to see renewed stress in the country's mining sector emerge as profit margins in domestic currency terms get squeezed. Already one of the country's largest precious metals miners, Sibanye Gold (NYSE:SBGL) warned that it may have to place several of its platinum group metal shafts on care and maintenance later this year, should the current level of the Rand and US Dollar platinum prices persist.
Finally, easing domestic monetary policy in the context of tighter monetary policy in the United States, will eventually lead to a narrowing in real interest differentials and make the Rand less attractive from a yield perspective. In the short term, the potential upside in South African financial assets will probably be sufficient to support continued capital inflows from foreign investors, and therefore the currency. However, foreign investors playing this game will have to be nimble, with the Rand likely to start weakening once again and long before any rally in South African financial assets comes to an end.